CREATED BY MIKEALEXANDER12. DON'T EDIT WITHOUT PERMISSION.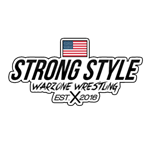 WARZONE is a public created wrestling company that was founded by Justin Thomas. Due to Justin's assiocation with the Marvel company. WarZone has multiple comics made. WARZONE does not have a TV deal but it does have a DVD deal. All of WarZone's shows are started with Chapter on DVD. In which they are usally always PPV's.
WARZONE headquarters is located in Los Angeles, California where Justin works on his projects.
Formation
Edit
Justin Thomas was called someone who did not take things lightly about sports. He proved everyone wrong and created a new influlence in pro wrestling. WARZone's first WARZONE Chapter 1: The Dawn of An Era got over 300 ppv sales.
Personnel
Edit
Authority figures
Edit
WARZONE was ran by Daniel Rose on-screen, although the real owner was Justin Thomas. Daniel Rose usally favored his son, Daniel Rose Jr, Known as Danieru Jr, in Japan.
WARZONE contracts
Edit
WARZONE wrestlers are forbidden by contract from working for other companies with a international/global audience, but are free to perform work for any other independent wrestling promotions, as well as televised events held by foreign promotions that WARZONE is linked to or has a working relationship with such as Pro Wrestling NOAH and Asistencia Asesoría y Administración. Many WARZONE wrestlers perform regularly for various promotions on the independent circuit in addition to WARZONE's weekly PPVs.
Employees
Edit
Main Article: List of WARZONE Employees
Main Article: List of WARZONE: PPVs
Ad blocker interference detected!
Wikia is a free-to-use site that makes money from advertising. We have a modified experience for viewers using ad blockers

Wikia is not accessible if you've made further modifications. Remove the custom ad blocker rule(s) and the page will load as expected.